DMI Partners with Wirepas to Optimize Asset Tracking in Digital Twin Platform
DUBUQUE, IA, Feb 16, 2022 – DMI, LLC, a digital transformation company, announces partnership with Wirepas, a market leader in IoT connectivity, to integrate Wirepas Massive mesh software into DMI's digital twin platform, Precision Reality.  This partnership delivers a scalable and reliable solution for precise positioning and real-time asset tracking in Industry 4.0.  Wirepas further broadens Precision Reality's growing ecosystem of hardware and software integrations for IoT, 3D visualization and analytics.
With a data and device-agnostic system architecture, Precision Reality was developed as a unifying digital twin platform to enable users to remotely manage their facilities in real-time, from one centralized portal.  Precision Reality allows users to automate data collection, aggregate analytics and contextualize data within a visual framework.  Solution sets include Track & Trace, Energy Optimization, Environmental Health & Safety, Operational Efficiency and Space Utilization.  Each solution set includes a combination of devices to power analytics dashboards and rules-based alerts to reduce cost and liability, save time, increase visibility and protect critical assets.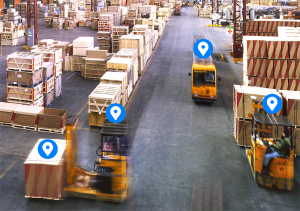 Recognizing customers' digital transformation journeys move at varying speeds, Precision Reality is designed with scalability and built on a Wirepas powered  mesh network infrastructure using DMI's proprietary UL listed anchor device.  Installed in industrial lighting (and additionally offered with built-in lighting controls), this device is adaptable for new installations or legacy retrofits and implements a wired network backbone to future-proof facilities for years to come.
Nathan Greiner, President and CTO of DMI says, "Choosing Wirepas to partner with has propelled our platform to a place that will transform the industrial IoT market.  We've vetted many providers in search of the best solution, and no one can match the power and value of Wirepas connectivity right now.  We look forward to a growing partnership that can provide a market-leading IoT technology and platform to our customers."
"Wirepas is looking forward to a very long partnership with DMI. For many years DMI has built and delivered solutions in the IoT, technology, and real estate spaces.  The Precision Reality SaaS platform is industry leading and second to none.  We are proud to have them in our Wirepas Ecosystem.", comments Jason Herro, Senior Director, Sales at Wirepas.
A critical component for Precision Reality Track & Trace is the capability that Wirepas provides for a full coverage tracking solution in high density and GPS denied areas.  Wirepas has engineered networks to dynamically self-organize and self-heal to persistently optimize data routing, adding speed and reliability.  This enables Precision Reality users to track activity, location, position, dwell time, distance traveled, route taken, condition, and usage on vehicles, employees, inventory and equipment.
Deployed with multiple Fortune 500 companies, DMI's Precision Reality platform continues to develop and integrate the latest emerging technologies to accommodate projects of all sizes and hardware stacks in an accelerating IIoT market.  DMI Chief Revenue Officer, CJ Kuehl says, "Simplifying the digital transformation process for enterprises has continued to be our focus, and Wirepas allows us to offer a straightforward solution that makes any IoT use case fully accessible."
About DMI | Precision Reality
DMI, LLC is a global digital transformation company delivering pioneering solutions for industry leading organizations.  A three-time recipient of the Intel® Software Innovator of the Year award, DMI continually works to transform the integration of cutting-edge interactive hardware and software through innovative design, development, and processes.  Harnessing the power of digital transformation, DMI has developed Precision Reality, a SaaS platform connecting IoT hardware resources to innovative data and visualization solutions to deliver actionable insights in real time.  www.precisionreality.com
About Wirepas
Wirepas is a leading technology company on mission to democratize enterprise IoT by making failure-free connectivity accessible to companies of all sizes. its unique software enables massive decentralized, scalable, high-density, and long-range network applications – at a fraction of the cost. Companies can set up and manage their network autonomously without operators, separate network infrastructure, middlemen or subscriptions. Wirepas is also the principal contributor to the first non-cellular 5G standard, purpose-built for massive IoT and using a free global spectrum. Wirepas serves customers across the world with offices in Australia, Germany, Finland, France, India, and the United States, with clients in the areas of smart tracking, smart building, smart factory and smart metering. www.wirepas.com
Inquiries
DMI, LLC – Jasmine Nobis-Olson, Creative Content Manager, jasmine@precisionreality.com
Wirepas – Mia Karlsson, SVP of Marketing and Communications, mia.karlsson@wirepas.com
###